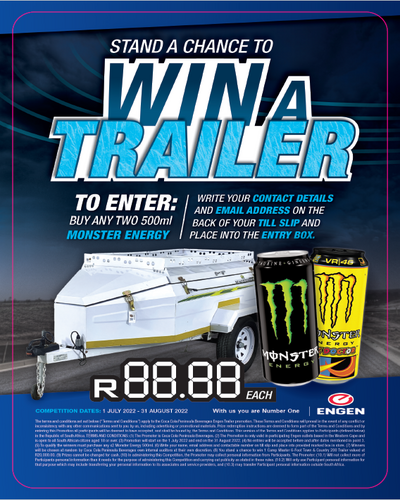 WIN 1 Camp Master 6-Foot Town & Country 200 Trailer valued at R20,000.00. (Western Cape Selected Engine outlets)
Terms & Conditions
The terms and conditions set out below ("Terms and Conditions") apply to the Coca Cola Peninsula Beverages Engen Trailer promotion. These Terms and Conditions will prevail in the event of any conflict or inconsistency with any other communications sent to you by us, including advertising or promotional materials. Prize redemption instructions are deemed to form part of the Terms and Conditions and by entering this Promotion all participants will be deemed to have accepted, and shall be bound by, the Terms and Conditions. This version of the Terms and Conditions applies to Participants (defined below) in the Republic of South Africa.
TERMS AND CONDITIONS:
(1) The Promoter is Coca Cola Peninsula Beverages.
(2) The Promotion is only valid in participating Engen outlets based in the Western Cape and is open to all South African citizen aged 18 or over.
(3) Promotion will start on the 1 July 2022 and end on the 31 August 2022.
(4) No entries will be accepted before and after dates mentioned in point 3.
(5) To qualify the winners must purchase any x2 Monster Energy 500ml.
(6) Write your name, email address and contactable number on till slip and place into provided marked box in store.
(7) Winners will be chosen at random by Coca Cola Peninsula Beverages own internal auditors at their own discretion.
(8) You stand a chance to win 1 Camp Master 6-Foot Town & Country 200 Trailer valued at R20,000.00.
(9) Prizes cannot be changed for cash.
(10) In administering this Competition, the Promoter may collect personal information from Participants.
 The Promoter:
(10.1) Will not collect more of Participants personal information than it needs for the purpose of administering this Competition and carrying out publicity as stated in these rules.
(10.2) Will only use Participant personal information for that purpose which may include transferring your personal information to its associates and service providers, and
(10.3) may transfer Participant personal information outside South Africa.