Coca-Cola Peninsula Beverages to bring refreshing and renewed excitement to the iconic 2022 Cape Town Cycle Tour  
On Sunday, 13 March, thousands of cyclists from around Cape Town and South Africa will once again hit the road for the highly anticipated 44th annual Cape Town Cycle Tour. As the official hydration partner of the CTCT, Coca-Cola Peninsula Beverages (CCPB) will be there to hydrate cyclists along the entire route … from the firing of the start gun right at 6am through to the finishing line back in the city. 
"After two years of national lockdown, which resulted in the event going virtual in 2020 without any of the usual fanfare and spectators, and then a much smaller event in October last year, we're looking forward to making a big splash and supporting the cyclists with the thousands of locals cheering them on," says Dan Davis, Commercial Activations Lead at CCPB.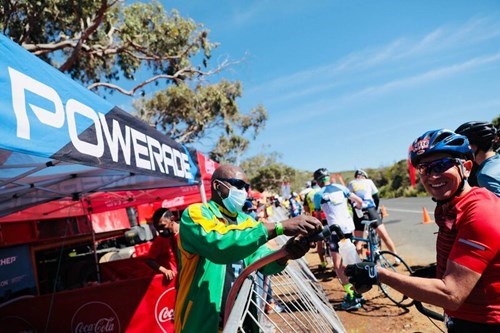 For the past 38 years, CCPB has been the official hydration partner of the Cape Town Cycle Tour and has played a vital role in promoting the event as well as keeping cyclists motivated and hydrated with water, Powerade and Coca-Cola. From just before midnight on Saturday,12 March, CCPB teams and trucks will be deployed to the various route stages to set up for the race, creating magic through the night for the more than 20 000 cyclists that will need refreshing.
This year, 430 CCPB team members will be stationed at various checkpoints to hand out beverages to the cyclists. The event on Sunday will see 30 000 litres of Coca-Cola, 5 000 litres of Coca-Cola No Sugar, 46 000 litres of Powerade, and 85 000 litres of water used throughout race day. Up to 36 000 tons of ice will keep the products chilled throughout the day.
The Cape Town Cycle Tour, through the race entries, contributes millions annually to social upliftment and cycling development through its beneficiaries, the Rotary Club of Claremont and the Pedal Power Association (PPA).
Through its partnership with The Cycle Tour Trust, CCPB is proud to make a difference that matters to local communities in the Western Cape. 
"It has been a long lockdown for South Africa, and we are thrilled to be part of this exciting and much celebrated event being back in the Cape Peninsula like previous years. We're hoping that this event will be one of many more to come – an event that celebrates the benefits of exercise, the beauty of Cape nature and bringing people of all ages and cycling abilities, together safely," said Davis.